#1: On Letting Go
Of creative boundaries, creative projects, and the need for achievement.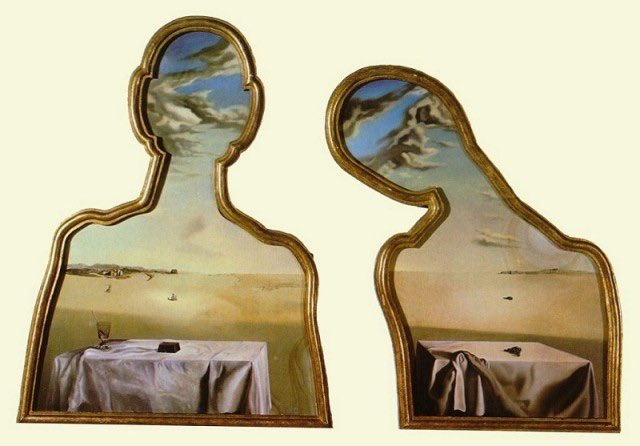 Couple With Their Heads Full Of Clouds (1936) by Salvador Dalí
---
Latest Work (From This Summer):
Poem about people mispronouncing your name in Hobart

Lyric essay about (privileged) revelations of this summer in Blue Marble Review

I'll have some visual poems exhibited online for one day only: tomorrow, Oct. 1st at ARTSIDEOUT, UTSC's largest one-day multidisciplinary art festival; please take a look if you get a chance!
---
Recently, when I brought up my hesitancy to a friend about starting a newsletter, she said something that felt like a revelation: I get to decide what it looks like. This was the opposite of what I had come to expect from newsletters, given that the ones I made for clubs and my literary magazine focused on events and activities. They were curatory, but in an inflexible rather than creative way.
What I've realized through Substack is that the world of newsletters is much more than the window I had been exposed to. For example, my friend's newsletter is exactly what she wants to be (usually interviews), and releases it monthly and at times, weekly.
This is why each edition of this newsletter will be long(ish)-form, but probably in a different format. It could be anything from a personal essays to research-based analysis to an interview to media recommendations, or all of the above.
---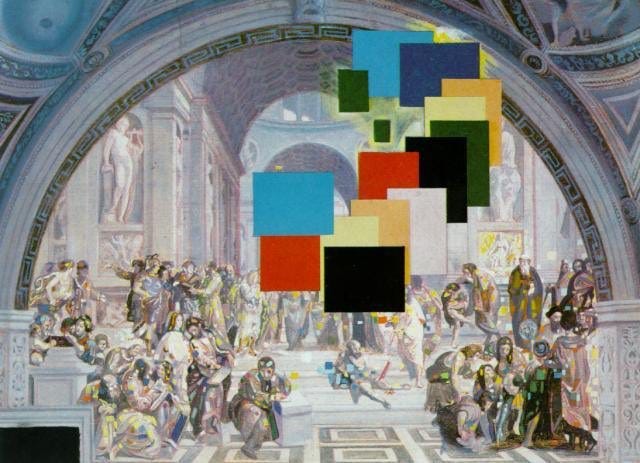 Athens Is Burning! The School Of Athens And The Fire In The Borgo (1980) by Salvador Dalí
What the Hell is a Genre?
The newsletter isn't the only writing structure I've seen in a new light – I had always thought, until recently, that I couldn't write fiction. I couldn't relate to writers who simply came up with characters and narratives and worlds out of seemingly nowhere. I've always just written about what I see in front of me, which isn't too terrible a flaw as a poet.
This summer, however, I wanted to test these limits by writing a play, or a short story. And sure enough, I stared at a blank Google document everyday for a week. I thought I knew what a story should look like – interesting characters do interesting things that amount to a conflict and then a resolution. I had a character, and...just that character. So there went my fleeting dream of being the next Polly Stenham (who was 19 when she wrote the critically acclaimed play That Face, and who continues to write about dysfunctional families that I adore.)
I abandoned the character I'd come up with until I stumbled upon an online sampler class of a fiction course being offered by Allison Wyss. I thought that maybe she could let me know what I was missing (other than, you know, a plot).
What I realized I was missing during her class was (well, what do you know) creative freedom. Wyss emphasized that there are no rules to fiction – only strategies and techniques that can be used to better dig into your ideas. We read See Me by Anna Cabe, which is short fiction about a vampire in a new political sphere. Cabe took the basic, supernatural creature I hated and created a narrative so short yet so gripping that I couldn't stop reading. Subverting my expectations of a vampire story showed me that anything is possible in fiction, and that fiction could be anything. It didn't have to be this brick wall of elements I had to build from the ground up – it could be a street in a different town that I could walk along.
One of the prompts Wyss offered during our free-write was: "Start with any magical character you know from mythology and write a backstory for them. If they already have one, throw it out and start over."
Mythology, as it turns out, is a great place to start writing in an unfamiliar genre from. Since it exists in stories, ancient songs and poems that are often told orally, it's malleable and can easily become your own.
I didn't need to start with a whole new plot when there were legendary characters out there that I wanted to continue experimenting with. Some of these were Bluebeard and his wives, featured in a poem that I had been trying to get published for years. The ideas in the poem could use a bigger container, I had thought, and began to tell their story my own way.
Writing can be anything you want it to be, so don't limit yourself to what you know. Fiction, Nonfiction, Poetry as words are so intimidating – so daunting – because they represent unknown territory, or known territory you don't know how to tread. But once you tear down that wall, pull on your shoes, and uncap your pen, those foreign worlds are yours to explore.
---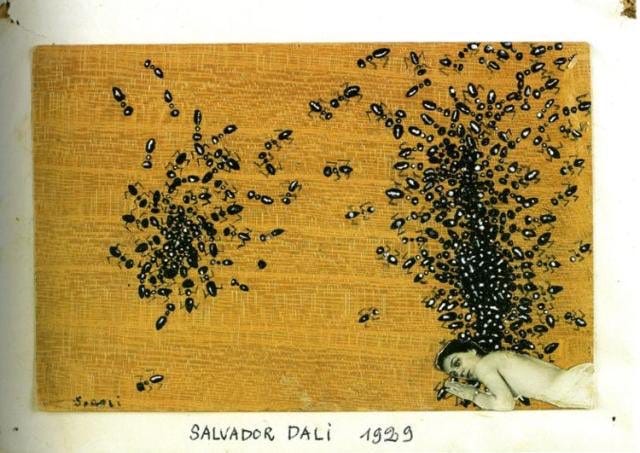 The Ants (1929) by Salvador Dalí
These Heavy Ghosts
Don't let the shame of unfinished projects keep you from starting new ones. Everyone who makes things has unfinished work lying around. It's part of the landscape of creating.

Heather Havrilesky, author and Ask Polly columnist.
I fall into the category of writers you've all been warned about – the kind who waits for ideas to come to them, who needs a word or some other muse to spark inspiration. If I was more disciplined, I would have more ideas and if I did, perhaps I would feel less shame over my unfinished creative projects. One major, life-changing project that I more or less abandoned a few years ago is Sugar Rascals, the teen lit mag I started in high school.
I was editor-in-chief, poetry editor, and interviewer for the magazine, which was founded to create opportunities for young writers and artists when they were far and few between. It was extremely rewarding to connect with and publish young talent as well as collaborate with a brilliant team, but it was also hard work and very time-consuming to keep the magazine running. As academic, extracurricular, and other responsibilities began to require more of my time, I could no longer manage magazine work simultaneously. Eventually, I let SR fall into an indefinite hiatus.
Over the last few years, this regret weighed on me like an extra shadow, followed me around like an unimpressed ghost. It watched me with its white eyes and whispered, how can you start anything new when you've proved that you can't even commit to SR?
When I considered returning, I did realize that I could make changes to my role at SR to fit in my new life. I could delegate some tasks. I could make it work.
But was it a responsibility that I wanted to take on again? Was I still passionate about it, and would it serve me in the same rewarding ways? Should I hesitate if I was returning out of shame, out of obligation? Was it feasible as I focused on my writing career? Would SR still be satisfying the same needs in the literary world, if I took it up again?
The short answer to these questions was, and is no.
The long answer is that the teen lit scene is thriving, so SR is no longer one of the few opportunities for young writers and artists. If the magazine continues, it would need a reboot – perhaps by serving a (more) niche audience, or by publishing some kind of work that other journals aren't taking. Moreover, if I don't feel like I'm making a difference in the careers of young writers and artists as I used to, the role would be far less rewarding than it had been. I would be less motivated too, if I was putting in the work out of obligation. I also want to make more time and space for more fulfilling activites – not only writing, but volunteering for causes I care about.
This week, I passed my responsibilities on to one of SR's staff members, who is excited to put her own plans into action for the magazine. How lucky am I that someone still believes in SR and its potential to become something different, and even more wonderful? How lucky am I?
SR as a creative project was once so alive but now belongs more in my heart than in my life. It's a ghost that deserves a better life with someone else, in a place where it's not hidden away in shame.
And so both of us have been exorcised — both of us are free.
---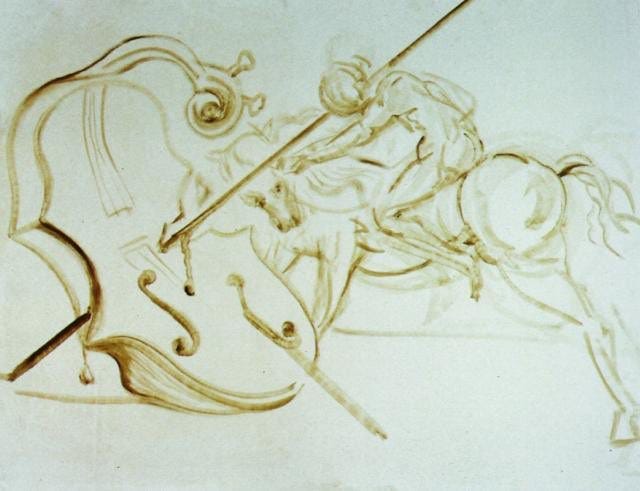 St. George Overpowering A Cello (1983) by Salvadore Dalí
Chasing Accomplishment
Accomplishment happens in an instant. Accomplishment is awarded the moment the finishing is done...Our society offers up so much as reward, and yet rewards so little for the so-much of life.

Devin Gael Kelly, On Not Finishing
I've been running intermittently since middle school for basically two reasons: it's an easy way to stay fit, and to participate in the attainable challenge of a race. Running is painless enough as a form of exercise, but the true enjoyment of it comes from reaching a goal time, or finishing a run.
The delight of self-improvement, I told myself, is why I love running, why I participate in races. There was truth in that, of course, but what I was actually seeking was a reason to feel good about myself and to feel proud. There was nothing like a post-run high to make me feel like I was capable of anything and everything.
But this was what I always relied on when I felt less confident in other areas of my life. For example, if I thought: I may not have done well on this test, but look at this 5k race I participated in!
Wow! shouted my low-self esteem demons, briefly pacified.
Wow! shouted some imaginary person reading my resume, seeing that I could make up for those marks in other areas of my life.
This was an accomplishment I could count on for internal and external validation. It disappeared, however, when I stopped running regularly and my self-esteem remained as low.
Other races I had competed in followed the same pattern: in high school, to win awards and publish in top-tier journals; each year up until now, to finish my Goodreads Challenge by never abandoning a book half-way. But who hasn't on occasion thought that the feeling of having written trumps that of writing? Or even having read over reading? The end product over the labour of it: the carrot dangling in front of our faces.
If only we could reach that finish line, the pain in our muscles would be worth it – the time and resources spent would be worth it. We could pat ourselves on the back, and say, isn't it great that we didn't stop half-way, that we didn't abandon this task? Kelly writes, "For a long time I have believed that love and joy come after. They come after accomplishment. They come after pursuit…They don't live in the present. They have to be earned." Haven't we earned this pride, this love for ourselves?
But once we cross that finish line, eat that carrot, the brief moment is gone and all we have left are our wobbly legs. We chase and chase accomplishment and are left hollow, having used up all our energy on the way here. Kelly says that "[t]he thing about horizons is that, upon reaching one, you always encounter another. It's the in-between where life lives." What is real now are our aching lungs and the lives we've passed on our way here.
As ambitious as I am, I don't want to be a success addict. I don't want to be a winner or a hustler or a Thirty Under Thirty if it means that I'll miss my life as it's happening. When I set goals, I want to enjoy the labour of them, and not call it labour. I can't rely on achievement for a boost of self-esteem when the cost is so high. Accomplishment can never be enough because it can never stay with me, or be assembled into something resembling a life.
I still love to win and achieve. But the journey – this life that I live everyday – is just as, if not more important than the finish line, the publishing credit, the title, the glitz and the glam.
And it's enough to just be myself in this moment, and in the future, whether or not I cross the finish line.
---
This Month's Emotional Toolkit + Other Recs
Films (aka Therapy): A Beautiful Day in the Neighborhood; Lady Bird

Art:

Salvadore Dalí's work featured this month, all found in this thread by C. T Salazar

"Overtime" by E'wao Kagoshima, which truly, truly represents the experience of overtime.

Poems:

Interviews:

On Time and Water with writer and filmmaker Andri Snær Magnason, who is also known for writing the obituary for Iceland's oldest glacier. His work changed my perspective on how we can fight the good climate fight.

On photography with Susan Sontag, which has made me realize the value of the art.

Essays:

Apps: Among Us. I have wasted so much time on this game (and enjoyed every second).

Podcast Episodes: Between the Covers

Chelsea Hodson, who grapples with danger and desire in her excellent essays

Alexander Chee (Tin House Live: Craft Talk), who shares some very useful writing strategies.
---
Thank you for reading! Subscribe for more!